Our very own Lockdown Hero!
Posted: 3 November 2020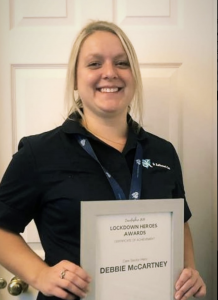 Care Co-ordinator Debbie Named Local Lockdown Hero!
When Care Co-ordinator Debbie made the decision to live apart from her two young children during the pandemic, so she could keep providing vital care to our customers, she could not have imagined she would go on to win an award!
Debbie was one of eight people officially recognised for their efforts to help others during lockdown at the Lincolnshire Lockdown Heroes Awards 2020. During the ceremony, organised by The Lincolnite, Lincoln College Group and Lincolnshire Chamber of Commerce, Debbie along with the other winners was treated to a three-course meal and presented with vouchers and chocolates.
Speaking at the event Lincoln College Group CEO Gary Headland said: "This was an opportunity to celebrate the wonderful examples of human compassion, resolve and bravery that we saw in Lincolnshire throughout the lockdown period.
"Reading the hundreds of nominations was a truly humbling experience and every single individual deserves recognition.
"Our winners really stood out as extraordinary and we were delighted to be able to invite them onto our campus for a small socially distanced celebration today.
"We sincerely hope we will not face another lockdown situation in the near future, but if we do, we have learned that we live in a place where people will support and care for each other when the need arises, allowing us to pull through stronger than ever.
"Another fabulous example of Greater Lincolnshire being a terrific place to live, study, work and visit."
In typical Debbie-fashion, she was very embarrassed to win, claiming she was just doing her job, but admitted it was nice to be nominated by her colleagues! However, we at St Kath's think Debbie really deserves this award and are so proud of her. As Care Co-ordinator Debbie is responsible for managing the staff rota which can be very stressful as we provide care for over 60 extremely vulnerable and elderly people in their own homes 24/7, 365 days a year.
She is a very caring person and always puts other people before herself, which is one of the reasons why she is such a popular member of the team. She also has a knack of making people feel special and is good at identifying what is important in people's lives.
So I would like to take this opportunity to congratulate Debbie and thank her, as well as the rest of the team at St Kath's, for all their hard work and commitment during what has and continues to be a very challenging time.
Together we will succeed!
CW