The lifeline of home care…
Posted: 1 February 2021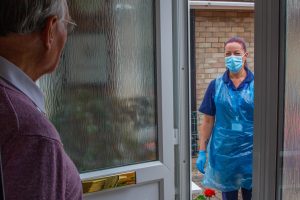 When simple parts of daily routines such as shopping, dressing and cleaning become a more serious challenge for our elderly relatives it's time to take stock and look at how things could be made easier for them.
The first thing that always springs to mind is residential care, but we know this is a huge decision with life-changing impact, and often the person you love isn't quite ready to give up their independence, or even isn't at that stage in their life.
Our team at St Katherine's witnesses this at first hand every day in the home care service we provide. For many older people, being able to continue in the comfort and familiarity of their own home is key to their dignity and maintaining a zest for life. Ageing of course takes its toll both mentally and physically but the routine of home life is a staple of happiness. As we age, everyday tasks that we would normally take for granted can become increasingly difficult, which is where a home care service can really transform lives, alleviating strain from specific tasks and enabling more time for hobbies and interests.
You might wonder what home care involves. First up, incredibly dedicated, trained and warm carers: they provide visits to homes for not just the elderly but also those who are unwell, on medication, or require additional daily support for all manner of reasons.
These visits can involve all sorts of personal care from bathing, dressing, sorting medications, assisting with mobility, to helping with pets, admin, shopping, cleaning, cooking, and so on, and often vital companionship.
Our team at St Katherine's forms a strong bond with the people in their care and provides that essential support lifeline they need to ensure they can stay in their homes.
Sometimes (and we have often found this when discussing care with families) that some elderly people can see this prospect as an intrusion on their space or show fear that they will lose independence. It's not uncommon for someone to dig their heels in and say :"oh, I don't need that…"
Our reply is that actually families can find this a really positive life bridge to ensure that the individual can remain as active as possible, and without the upheaval of a move into residential care. In can be a bit tough at the start, but accepting assistance with certain daily tasks can almost always free up more time for the things they love to do, and increase their confidence and sense of well-being.
Home care isn't intrusive and can easily be slotted around everyday life. It gives family members peace of mind, and thanks to its flexible nature, it can be adapted to the needs of the individual and their schedule. So, you might find that our carers only needs to visit for an hourly catch up here and there, or may visit daily, or even provide 24h care, at the other end of the spectrum.
Another example is discharge care, when someone leaves hospital and may need specific help with their recovery, something else our team can help with. We can provide tailored care packages and coordinate with other care agencies (such as the GP) for people living with medical conditions, and it is important to ensure these are bespoke. Different disabilities come with different sets of needs and care requirements, and we understand that.
Here at St Katherine's, we are flexible and adjustable, and our main focus is to ensure that the individual is happy, comfortable and able to enjoy their life. We can take the pressure off the individual's daily routine either through complete care or on a supportive basis working alongside care already provided by friends and relatives. This is a really wonderful aspect of home care in that the family and the individual have control over the level of home care provided and can be as involved as they feel they need to be. It gives peace of mind.
The versatility and benefits of home care are becoming increasingly popular: Our staff love what they do, and this is very evident in the time and level of care they invest into each individual we have committed to look after.
Do get in touch and we can talk you through the many facets of home care and how it could work for your family, either through admin@stkatherinescare.com or by calling 01522 437949.